Everett Worrell, B-17 pilot during WW2, tells us about his wartime missions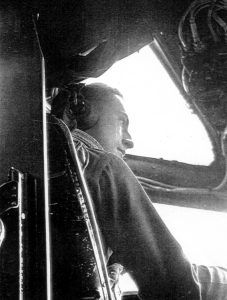 Everett Worrell, 5th of August 1944
We flew over there from June 1944 to January 1945. I flew two missions to targets in France. On 7 August 1944 we went to Marlotte and I was flying the ship "THE JOKER II" #42-102873 VE "H" as #3 off the Low Group Lead . This mission lasted 6 hours 25 minutes. The very next day, 8 August 1944 I flew at only 10,000 feet 140 miles along the front lines to Caen in "LITTLE GUY", #42-106994 VE "K" and we received the second most damage to our ship, 175 holes...A B-17 at 10,000 feet is a very big target.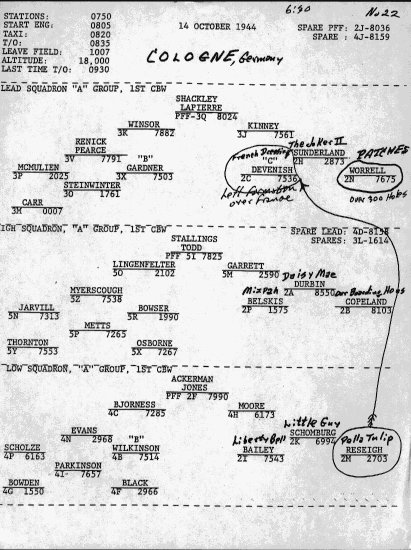 The worst damage that we received was to "PATCHES" the 14th of October 1944 on our third mission to Cologne when we received over 300 holes in her. She still flew like she should and not a man on our crew was hurt. This mission lasted 5 hours and 55 minutes. I have included a copy of the Formation Sheet for this mission in the items I sent you.
This was the last time we flew PATCHES, she was sent to the Depot and re-skinned. When she was returned the the 532nd Sq , 381st Gp she was re named FLACK MAGNET, I think a very bad name.
The last time I flew LITTLE GUY was as #2 off the Low Group Lead to Cologne on 17 October 1944. On 26 November 1944 I was leading the High Element in the Lead Group in "THE JOKER III" #43-38479 VE "Q" on a mission to Bielefeld, Germany and Lt Smith was flying LITTLE GUY on my left wing in the #3 position and they were shot down.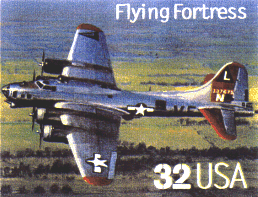 B-17G #43-37675 Patches, 381st BG, as pictured on the 1997 US stamp
On 30 November 1944 I was leading the Low Squadron in the Low Group flying SLEEPY TIME GAL, #42-107112 VE "O" (This is the Lead Ship shown in the photo of the six B-17s) to Merseburg, Germany We flew at 31,000 feet that day and the 8th Air Force lost 86 bombers that day.
Pilot Everett Worrell with co-pilot Alex Strohmayer
The rest of my missions, all as a Lead Pilot , were in DAISY MAE, # 43-38550 VE "A" .
I'll tell you about another mission while in MIZPAH later.
Keep 'em Flying,
Everett