a real warbird flight for the webmaster!!!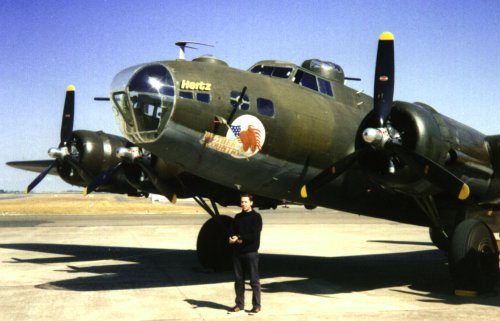 On the 15th of september, 1996, a number of warbirds (P-51D "Jumpin' Jacques", T-6, B-17G "Pink Lady/Mother and Country", Stearman, Beech 17) fly to Le Bourget airport. The car manufacturer Peugeot wanted some nice planes to be in the background while they would be presenting some new models to the press. Being part of the nearby-based "Ailes Anciennes Ile-de-France" association, I know about that and I come with a friend of mine to give a helping hand parking the planes. They are to stay here for 3 days.
I am of course back there on the day they are to be leaving.I am alone this time, and I find that there's not much for me to help with. But at the end of the day I learn the fantastic news that I'm invited on board the Flying Fortress, going back to Paris Orly Airport! Thanks to Jean Salis, a well-known figure on the French warbirds scene, Jean-Michel Daniel, "Ailes Anciennes" president, and André Dominé, the B-17 pilot, I will be able to fly in this piece of history for a little more than half an hour...
The waiting time before taking off seems like it's going to last forever... Finally the noise fills completely the aircraft and... we're flying!!! During the flight I can move freely in the aircraft, even standing in the cockpit during landing... A flow of thoughts race through my mind, I'm thinking about these guys as old as I am now who were, in completely different circumstances, making a terrible journey across the Channel to occupied France and Germany, without coming back for many of them, just for us to be living freely now... This Fortress, along with all the others still flying around the world, is the greatest tribute to all of them.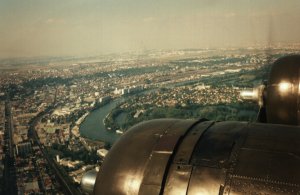 Flying over the river Seine...
This particular Flying Fortress is a B-17G, No. 44-8846. After service within the Mighty Eighth, she was part of the IGN (Institut Geographique National) fleet, and is now operated by the La Ferté-Alais based "Forteresse Toujours Volante" (Still Flying Fortress) association. She's currently based at Paris-Orly airport.
More about her
Of course, if YOU own or fly a warbird, and are willing to offer me a flight, you can e-mail me any time!!!
Back to the Warbirds-Stories page, in english
Retour vers la page Warbirds-Stories, en français
Back to the main page